Base layers form the basis of your winter attire. These layers play the most significant role in protecting you from the cold and wet weather. Their undeniable value in weatherproofing is worth shelling out some extra cash. I have turned into an advocate of base layers since experiencing their utility and value over many years. Just like any winter wear; base layers come in a variety of materials and types. They can be classified as per the fabric used or their weight. As far as material is concerned, there are two variants of base layers: merino wool and synthetic.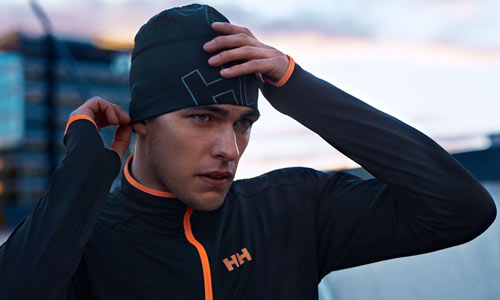 Merino Wool Base Layers
Merino wool base layers are soft and have small pockets in the fabric for breathability. Base layers made with merino wool retain heat well and can absorb over 30% of its weight in moisture before letting you feel any wetness. Merino wool base layers are moisture-wicking and have natural antibacterial properties which make them odourless. They also need to be washed carefully as per the instructions, in order to maintain their look and quality. I advise that you buy merino wool base layers and wear them on special occasions and not daily.
Synthetic Base Layers
These are made from materials such as polyester, spandex or fleece. Although synthetic base layers are not considered on par with merino wool in terms of quality, they provide a cheaper alternative and get the job done. Synthetic base layers are resistant to shrinking and dry quickly. These base layers are extremely durable and provide ample warmth to the body.
Fleece or fleece-lined base layers are also available. These base layers are very warm and feel soft, but they should only be worn during activities that do not require much movement. As fleece isn't as breathable as other materials, it is not great at regulating body temperature.
Choosing a base layer solely depends on the activity that you will be performing. There are many choices available on the basis of weight. If you are a skier or snowshoe enthusiast, you should choose the lighter material. On the other hand, if you are a camper who enjoys a night out with friends next to a bonfire, heavyweight base layers are made for you.
Lightweight Base Layers
Lightweight base layers are great to wear as they are comfortable and have the capability to wick moisture. If you are a regular skier, lightweight base layers are perfect for you. Base layer pants can be easily worn under your ski pants for providing warmth whilst maintaining ease of movement. Wear lighter layers during early winters for a comfortable feel.
Midweight Base Layers
Midweight base layers are thicker than lightweight base layers. Midweight base layers work well on colder days whilst performing activities which are a mix of active and inactive. Always make sure that you buy these layers in comfortable and moisture-wicking material, so that you do not have to worry about the weather taking a turn for the worse.
Heavyweight Base Layers
For those chilly days when the weather is unrelenting, wear heavyweight base layers – either by itself or over a light or midweight base layer. If you are going to be inactive for most of the day during an outing in winter, these layers can be worn on their own for warding off extreme cold.