Camping for the First Time? Here's How You Can Do It Right
If this is the first time for your camping, then you need not get anxious. You are at the right place. You just need to follow these steps and you will have the time of your life.
Step One: Purchase the Right Tent
There are a lot of choices to make while buying a tent. You might be super confused as to which is the right kind of material that should be bought. Whether it is nylon or polyester or some other fancy material. To know more about the right material, you should be well aware about the type of camping for which you will be going. Whether it is solo-hiking or is it for two-week camping family holiday. After you have answered this basic question, then you should go to some shops to buy the required type of tent which suits your needs the best.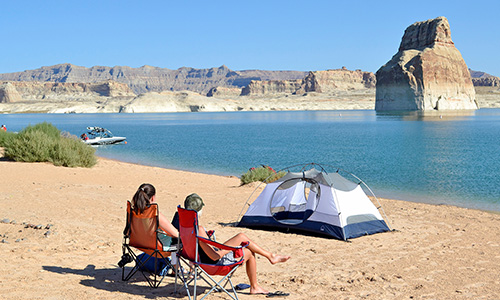 Try to choose a campsite which is near the sea or has a mountain view nearby. The whole idea of camping is to get close to the nature and get away from the routine city life.
Step Three: How to Set Up a Tent
Different types of camping sites have their own framed rules for positioning of the tents. Some of the sites may not have any rule for pitching of the tents whereas some of them might have strict rules regarding the booking of the sites in advance. Be mindful of the external factors like sunrays, wind and rain before you pitch your tents.
Step Four: Campfire Cooking
One of the most important aspects when camping is getting the food on the picnic table. If you have decided to cook on a stove, then try to take plenty of cooking gas with you. If you want to cook on the camping fire, then read articles or watch videos related to cooking on the campfire.
Step Five: Forget your Worries and Enjoy
Time to shun all the routine life and get engaged in an abstract life. Take a new perspective to even smaller things of daily life, you can wake up early in the morning rather than waking up in the afternoon or start your day with an exercise rather than starting by using Instagram. This is the time to go with the flow and do what you want to do and not what you need to do. If you have kids, then probably they might be so excited that they wouldn't sleep the whole night. You have to be patient with them and not scold them for their adventurous mood. Play all kinds of outdoor games with them and this is the appropriate time to get hold of their habit of playing with their phones all day long.
This is all about the camping activities and the details that you need to know before you head out for a trip. Beyond that, you don't need any advices. You just need to chill and enjoy.