Campfire: How to Make It Special
Having a campfire is a popular summer activity in the UK. There's nothing more fun than being on a camping trip and lighting a campfire in the evening, sitting around it with all your friends. Here we have some top tips to get your campfire started and ensure your safety throughout.
Choose Your Campsite Wisely
You will need to find a place that is suitable for starting a campfire . This is important because a campfire needs to have enough room and not have anything too close that can become hazardous . Make a ring of stones to protect the surrounding area. This is followed by gathering of dry leaves, kindling, tinder, wood, and twigs.
Craft Your Campfire Skillfully
You will need to create a grid of twigs and pile a cone of kindling around the ring's centre. Then, build a pyramid of wooden sticks around it. Light the tinder and add more sticks of larger wood when the intensity of flames increases.
Prepare Your Food
After a tiring course of hiking, nothing is better than having a filling meal with your friends. Good food is essential during camping as it refuels your body and helps you unwind. Ensure that your menu for each night is pre-planned before heading out for camping as there might not be many shops close by.
Play Games or Music
Once the food is set to be cooked, and the beers are out, start playing group games like 'Go Fish' or 'Crazy Eights' with cards. You could also go for poker if you have fans present in the evening. Games are fun, but musical activities take the front seat too at campfires. Take along a guitar and be the karaoke host for the evening.
Put out the Fire Gracefully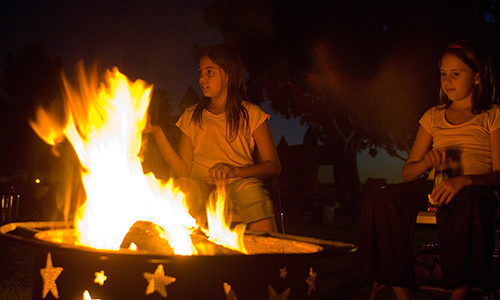 When you are done with the campfire, you will need to put out the fire and cover the ground so that no traces of fire are seen when you leave. This is required as the Scottish Outdoor Access Code imposes some guidelines on lighting campfires.