Breaking the Trail While Snowshoeing: A Yes Or A No?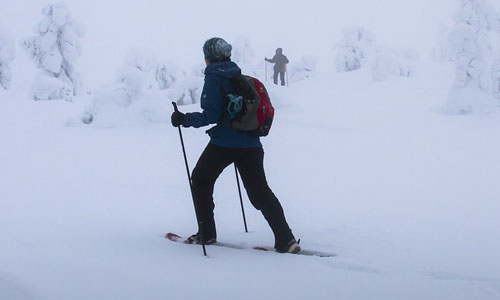 If you've never undertaken snowshoeing, I'd suggest you give it a try immediately. It's considerably more tiresome than hiking, so you should start out slowly on easy, level trails and build up your endurance over the course of time. Buying a pair of snowshoes and poles can be a bit harsh on your pocket, so it's better to rent the gear you need until you are certain you want to invest in snowshoes.
Some of you might disagree, but I strongly nurture this belief that winter trails aren't groomed for snowshoeing like they are for cross-country skiing. If you discover a trail that's even and less sloppy, you need to find and thank the snowshoers who went on that slope before you. Making your way through an existing trail is far easier than creating a new one. For this very reason, popular snowshoe areas are ideal for beginners, but it's still important to plan beforehand by keeping an eye on the weather reports.
The essence of snowshoeing lies in breaking the trail. You can trek up and down the white slopes. Cutting new steps can be far more vigorous than walking on a snow-covered feather bed, and you can enjoy the blanket of peacefulness wrapped all-around you. Also, you don't have to worry about contributing to erosion, as you would in summer. The plants are buried beneath the snow cover.
Have fun, but be careful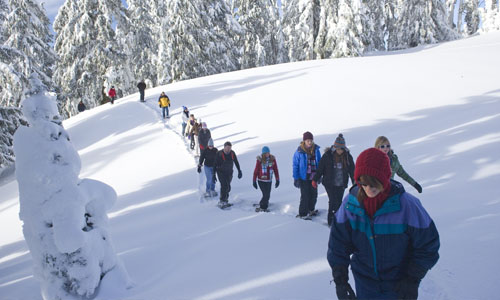 Adventure is directly proportional to the degree of risk associated with it. Before you break the trail, you should shortlist all the areas prone to avalanches. Having comprehensive navigational skills is also a must. The most important thing to do before hitting the slopes is to thoroughly check the avalanche report. Many training centers give avalanche training classes. These would help you to be prepared for the avalanche if and when it occurs. Another important thing to keep in mind when you're breaking trail is tree wells. Make sure not to break through when you approach a hollow spot near a six-feet-tall tree. Falling into a tree well might result in Snow Immersion Suffocation (SIS). It's best to assume that all trees in deep snow have some depth of tree wells, and should be avoided.
Keep your manners intact
Try your luck in a cross-country skiing area if you're not confident enough to hit the slopes right away. Pay attention to etiquette, especially when it comes to the groomed cross-country ski tracks. Stay off the tracks, If you need to cross them, cross them as cleanly and carefully as possible.
Same is the case with the backcountry, where skiers work hard to skin up the mountain and leave flat tracks for the purpose of reusing. I'd also suggest being careful while walking on a skin track made by skiers as snowshoes tend to make countless holes in the snow, which might create a bumpy track.
Lastly, I would like to bestow the less experienced snowshoers with a few handy tips. The first one amongst them is to go on an REI or ranger-led trip. But if you're going alone, pay attention to the landscape, check the avalanche report, and follow good etiquette. Breaking your own snowshoe trail is hard work, but it's well worth the effort. Happy snowshoeing!