I am not much of a walker in dry weather but when it rains I enjoy my time out in the open. I know a few people who dread at the thought of getting wet when it drizzles, and I have found the perfect solution to get them off their butt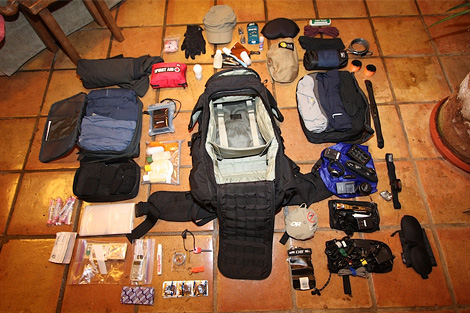 when it gets wet. This has led me to write this article, and explain it to them what they are missing out on, and how they can share the universal joy of rain with me.
1. Trudge no more in water with Hiking Boots
We can't walk on water like Jim Carey in Bruce Almighty, but we can at least avoid an arduous walk through a wet terrain by putting on waterproof shoes. I recommend buying waterproof boots with Gore-Tex technology for an easy hike when the water on the ground becomes an adversary.
2. Protector of Protected -- Back Pack Cover
When I saw my neighbor putting on a cover on his back pack while going out for walk on a rain, I almost laughed at his stupidity. But the next month when my brother invited me for a hike and on the travel when the water started seeping through my backpack, I understood how foolish I was to berate my neighbor in my mind. This taught me a lesson of not to take rain too lightly as it can be quite a mighty adversary when it wants to be. To counter the challenges of rain, buy a waterproof backpack for extra protection of your wares and enjoy a hassle free hike.
3. No Item Left Behind -- Dry Bags
It came to my notice that dry bags used by people who are into watersports are increasingly becoming popular amongst hikers. I bought one for myself and was pleasantly surprised at the ease with which I was able to fit in my sleeping bag, down jacket and electronic devices in it. Take my advice and buy one today, if like me, you carry a lot of stuff on your hike.
4. Get Soaked with dry clothes- Waterproof Jacket
The waterproof jacket is one utility item that you should keep handy in the rainy season. Especially, if you are a hiker, a rain jacket should be a must have for your adventures when it gets wet. It takes very little space in a standard back pack; and more than makes up for the effort that you put in carrying it, on your adventure by keeping your clothes dry. I did buy quite an expensive waterproof jacket myself against the wishes of my very angry wife. But I cannot even begin to explain how my insolence has paid off. Unlike other jackets it has extra waterproof protection over seams and zippers which allows for no gaps and keeps me dry as a bone. Learn from my impudence and do not worry too much about the expenditure and invest generously in a quality rain jacket. You will thank me later.
5. A Humble Companion -- Trash Bag
A trash bag may not be the most fashionable item to carry on a hike, but it is definitely the cheapest and most useful. You can use it for slipping in additional items, that you would like to carry, which cannot be placed elsewhere or you can put it on the wet ground and use it as a sheet to separate dry items from wet. And if you want to experiment with your look, you can even slip one over your head for extra protection.