Hiking enthusiasts are very meticulous when it comes to hiking gears. Shoes are an important gear when going for a hike. Choosing the right hiking boots are very essential for your feet to feel comfortable and relaxed as it is your feet that will take you to places where you want to be. Hiking boots are normally are adaptable in all terrains. But are hiking boots suitable for snowy terrains? Let's find out.
Well, hiking boots goes very well on snow if they are insulated, waterproof, and have proper rubber soles for snowy surfaces. Hiking boots are very much adaptable on almost all surfaces.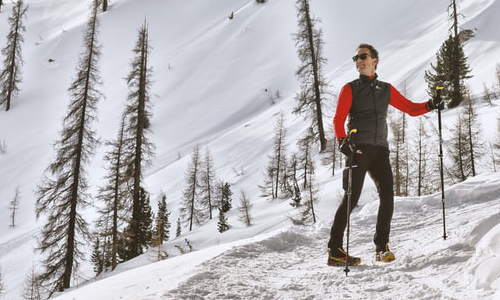 Hiking Boots in Winter
Most boots do just fine on light snowy surfaces but when there is thick snowfall, hiking boots can provide better grip on snowy surfaces than usual boots. Hiking boots are normally made from water resistant materials, so roaming around the snow with hiking boots will keep your feet dry for some amount of time. For people living in snowfall areas, they should make their hiking boots winter proof or upgrade to a more high quality winter hiking boots so that can easily stroll around the snow. But if you are planning to go where there is thick snowfall, it will be better if you switch to winter hiking boots from regular hiking boots. Even if your hiking boots are made of Gore Tex which is water resistant, they won't keep your feet dry on heavy snow fall surfaces. For snowy surfaces, snow shoes are the most suitable ones.
Hiking Boots or Snow Boots?
Hiking boots are generally made for rough and even surfaces, so they provide better traction and ankle support when walking on rough surfaces. Hiking boots have great ankle support which makes them ideal for uneven terrains. One major problem for hiking boots in snowy surfaces is that they won't keep your feet dry and warm for longer period of time whereas snow boots are typically made for winter season. Snow hiking boots are highly waterproof and provide better insulation to keep your feet nice and warm. Snow hiking boots work better on snowy surfaces rather than rough terrains as their soles are made for carrying out activities in the snow. One underlining difference in hiking boots and winter hiking boots is the insulation and traction both shoes provide. Hiking boots will also do fine in light snowy surfaces but the other one is particularly designed for winter season.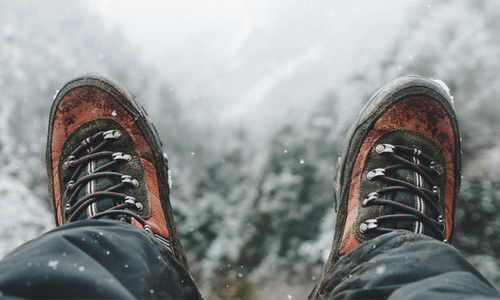 Hiking Boots in the Snow!
What makes hiking boots good for snow? Winter hiking boots are definitely better than regular shoes in the snow. Hiking boots are crafted to blend well in all surfaces, so winter hiking boots are obviously the ones you should look for when going for hiking in snowy regions. The standout points of hiking boots are sturdiness, waterproofing, and insulation. Sturdiness for harsh weather conditions, waterproofing to keep your feet dry and insulation for keeping your feet warm. So, are hiking boots suitable for snow? Yes, they are indeed.