A camping trip is something we all love as it lets us get away from our busy lives, get close to nature and do many fun & adventurous activities. Things can get a little bit confusing for people who are planning their first camping trip. One day before camping, make sure that you are carrying all the camping equipment and gear that are necessary. Let us check out what are the do's and don'ts that one need to follow to have an enjoyable and memorable camping experience.
DO's
TRAVEL IN GROUPS
This is important, particularly if you're walking with someone who claims that they know all about nature, but you should still make sure no one walks alone. Always walk in a group so that you stay safe and out of trouble. Remember that you must carry a compass with you so that you can find your way back if you ever got lost in the woods.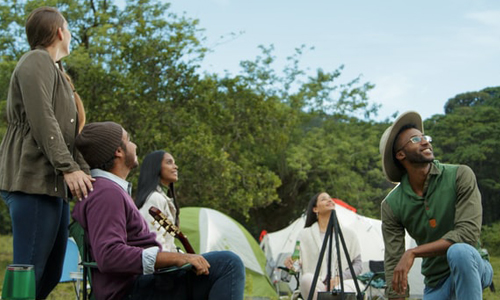 DON'T FORGET YOUR INSECT REPELLENT
Going camping means that you will be sleeping and walking around with lots and lots of insects, bugs and flies. If you don't want to be riddled with mosquito bites by the end of the trip, make sure you bring creams, sprays and citronella candle. This will not only protect you, but will help you get comfortable sleep in your tent.
CARRY ALL THE ESSENTIAL CLOTHES
You should pack your clothes smartly and pick something comfortable and appropriate. If you intend to hike, then make sure that you are wearing the right pair of shoes. Never trust the weather, if you don't want to get drenched in rain or want to get frozen, then don't forget to pack waterproof and other warm clothes. Perfect clothing will help you enjoy every moment of your trip!
DON'T
BEWARE OF WILD ANIMALS
We all love animals and you will see plenty of adorable wild animals in the forest. They may look all nice and lovely but make sure you are keeping your distance from them. Know that they all live in an open world and have been defending themselves for years. So if they feel anything suspicious they might hurt you. They also carry those germs or bacteria that are potentially harmful to your health. Play Smart, Stay Safe!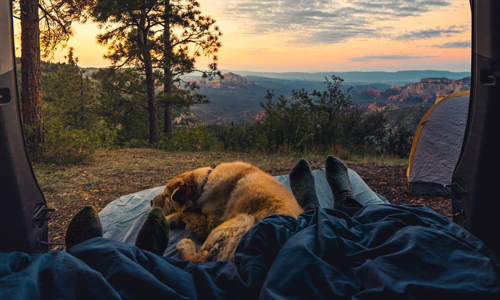 NEVER LEAVE YOUR FOOD IN OPEN
If you don't want any wild animals to hunt you, keep in mind that all your food packets and cans are stored properly in a container and stored at some height. Always keep an eye on your food to ensure animals do not get close to them.
DON'T FORGET TO STOCK UP WATER
Water is something that we all need during camping as we may get thirsty in a very short interval of time. You might see many lakes around that may seem fresh and delightful. But remember, they might have bacteria that can adversely affect our health. To avoid that, don't forget to carry your own water bottles and hydration packs, so you always stay hydrated.
FOLLOW FIRE SAFETY PROTOCOL
Always be prepared for the worst scenario, and fire is something that can be a huge camping disaster. Be vigilant when lighting a match stick. Make sure you are at least 10ft away from woods and leaves. Just in case, always keep water with you so that you can take immediate action if such a situation ever occurs.
IN THE END
Camping trips are a great way to go out and see nature's wonders. You need to keep these tips in mind when planning your trip so you can enjoy every minute of it and create beautiful memories. Share this knowledge with your loved one and closed one so you can have a nice time together.