Hiking boots are an essential component of hiking. Hiking boots provide you comfort to keep going. They provide slip-resistance and high traction to keep you safe at all times.
With comfort, wearability and support, it is important for us to know how to make our hiking boots more comfortable. Choosing the right boots is one thing, taking care and knowing how to make it more comfortable is another.
There are many ways to do it. You can customise the fit, or find comfortable laces to go with it and make your hiking session a smooth adventure. Finding it interesting? Read on.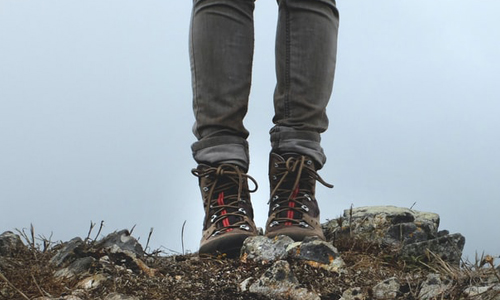 Get the right hiking boots
A hiking boot should make you feel comfortable while ensuring functionality. Be it any type of footwear, it should always be a secured and snug fit, whether you are hiking, running or walking. If they are hiking sandals, make sure to see if they are slip-resistant to protect you on slippery terrain.
It should be the first, most important element of buying any pair of hiking boots. Look for a firm fit, with room for the toes. It should not itch or feel uncomfortable. While trying them on, kick the toe lightly against any object to see whether your toes hit the end.
It is also advisable to find a size bigger, as the feet may swell up during the hiking session. You can try them on with socks to see if they fit you perfectly. If they don't, exchange them with the right size.
Get your size right
How do you get your size right? It is important to measure your foot and know how to find the right size. There are various kinds of hiking boots, which may have similar options available at every store. Make sure to explore and see which one works best for you. If it is too big, you could get tired very easily while hiking.
There are also different types and sizes, which many prefer according to their comfort. Some of us have bigger toes and prefer no space around the end. However, some of us have smaller toes, and prefer a size bigger than the actual foot size.
How to break in your new hiking boots?
Confused how to break into your new hiking boots? It is a simple process. It works well with leather boots. Synthetic boots do not mould your feet that much. You can take out the insoles and put the boots in a preheated oven for 10 minutes. It should be preheated to 120 degrees Fahrenheit (49 °C). Heating the boots would open up the pores of the leather, but not enough to melt the rubber. This would give you ample space to break in to the new hiking boots. You can use mink oil to soften the leather.
It is advisable to never wear a new hiking boot when travelling for a long time. Your feet won't be able to take the hard binding, and it would hurt.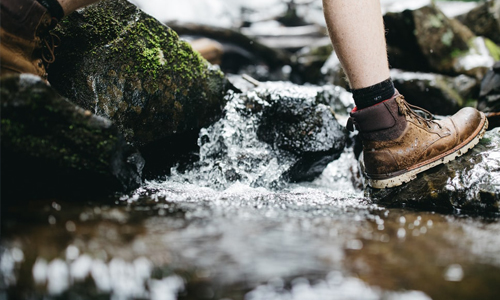 Why are right hiking shoes important?
The right hiking boots are important as they offer a lot of benefits. The right hiking boots would have:
A snug fit
Wicking capacity to keep you dry
Cushion under the heel
So, always use a pair of good-quality hiking boots. Make a smart choice, and check all the requirements before going for a long hiking session.