Amazing Tips to Stay Warm When Camping Outside
Keeping yourself warm and cosy while camping outside is not rocket science and is a pretty common concept. Wearing lots of warm clothes and moving your body in the right way, is how the norm goes. However, these are just the basics and there are a lot of other practical ways to make the most of your camping time without falling sick or catching a cold.
Clothe the Right Way
The trick to staying warm while camping outside is not what warm clothes you wear but, how you wear them. Most people tend to lose heat from the head so guarding it with a good old cap is ideal. Often it is the last part of the body that you think of accessorizing but, a woollen cap lined with fleece stops the wind and keeps you warm.
Next comes the ingenious way to keep yourself warm a for that, you got to stop the wind from passing a chill down your spine. Wear a nice quality and waterproof jacket and trousers to keep the warmth in check. You can also try a buff to block the chill creeping down your neck. Other ways to keep yourself warm is to wear boots, and gloves so that the cold does not get any chance to wreak its havoc on your bare skin.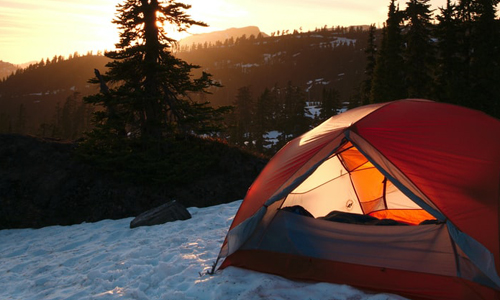 Cosying up in the Tent
After you have taken care of yourself, now it is time to warm up your tent so that you do not freeze to death, by chance. To do so, having a well-insulated sleeping pad along with a spare sleeping mat is a must. Your sleeping pad must have an R-value.
Greater the number, the better the insulation. This will restrict the cold from transferring to your body from the ground. And, the spare mat will increase your insulation and ensure that you are perfectly cosy while sleeping.
In case, you are camping out in extreme weather conditions, make an extra effort to carry a down sleeping bag to keep you sufficiently warm. It is also important to dress according to the occasion. Layer up light once you are inside the tent as the sleeping bag will keep you toasted once you are tucked in.
Campsite and Tent Setting
Now when you are setting up your tent and choosing a campsite, few basics can save the day. A sheltered spot from the wind or a spot in the sun is a saviour. Try to put up your tent at a place where it will be exposed to the sun as much time of the day as possible. And, at the same time, putting out your tent into the course of the wind is a real bummer. So, make sure you pitch it not facing the wind but, just the opposite.
As far as the tent is concerned, a double-walled variation will, of course, be a good choice, and to make the most of it, open up the vents to let loose of the build-up condensation. Lastly, candle lanterns will set up the ambience and will of course add to the temperature.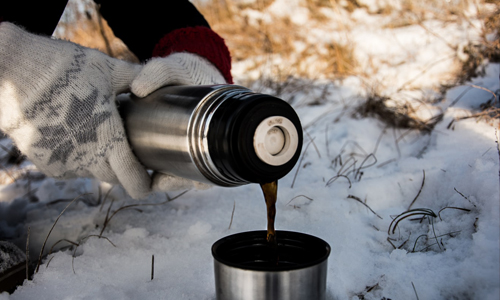 Eat and Drink Right
What you give your body when camping outside is as important as what you wear to keep yourself warm. So, it is important to stay hydrated and drink lots of hot liquid. Carry a kettle and treat yourself to spiced tea or hot chocolate before going to bed. Make sure you drink from a metal mug and avoid alcohol at all means. Eating right and putting in with lots of calorie-rich food is ideal to keep yourself warm from within.
Another little thing to remember to enjoy your camping trip is to sit under the sun whenever possible and move around as much as possible without getting sweaty.