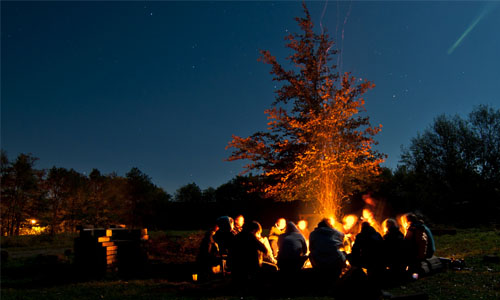 Camping has been one of my favorite leisure activities. Who wouldn't like to spend some quality time with their friends and family in the lap of nature? With breathtaking views of the verdant forests and pastures to the pristine river flowing, nature never stops surprising you with its marvelous creations. It feels great to live close to nature as it can have an exceptional therapeutic impact on your soul, body, and mind. What is even better is when you have your folks around with you. Together you can have an ideal vacation amidst the beauty of nature.
When the green grassy fields replace your cozy beds, and the moonlit sky with sparkling stars provide you the comfort of your favorite blanket, all you can do is spend the entire night under that twinkling sky with a hell of a lot of exciting games to elevate the mood to unbelievable heights. Right from some top class board games to random on-the-spot adventures, games and sports of some type act like a cherry on the cake. A few of my personal favourites are as follows:
A Deck of Cards will always do the Trick
Be it a challenging and addicting game of Uno, or simply the S'mores card game for your kids, a deck of cards simply adds more fun to such camping nights. My favorite however is The Shanghai Rummy, which keeps me in for long hours of inexplicable entertainment. Kids also love this game of cards for all the logic and mind that goes into it. Easy to carry and of multipurpose usage, cards can never abandon you on your camping nights.
Board Games
Get ready for long, grueling chess games or just a fun snake and ladder session. With such a wide variety of board games available these days, it is not difficult to get hold of a few for those exhilarating camping nights. Simple to learn or teach, these games can be a superlative pastime when you have nothing to do. My favorite is to indulge in my famous three-course gaming session, with Snakes and Ladders to start, followed by Risk for the main, and Scrabble for dessert.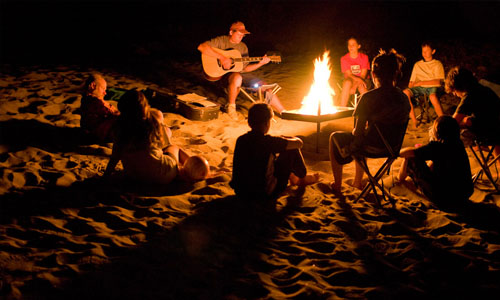 Other Games
If you want to hone your acting skills, then this camping night with your folks around is the best opportunity to do so. Try your hand at Camping Charades, a game that is fun any time of the day.
There are several other fabulous games that can lighten up your spirits during times of sore muscles, especially when you have just got back from a tiresome trekking expedition. With kids around, you can opt for simple yet interesting games like I Spy, Camping Bingo, Park Ranger, Nature Scavenger Hunt etc.
Simple ways to alleviate boredom come only by introducing such engaging and entertaining games to your camping nights and trekking trails, especially when kids are around. Get your child to help you out in chalking down some of the latest board and card games. This is also a good way of getting them to put down their phones for a while. Let them manage this segment of the preparation for your camps and trails. Brace yourself for an exciting and fun experience that can leave beautiful memories behind.