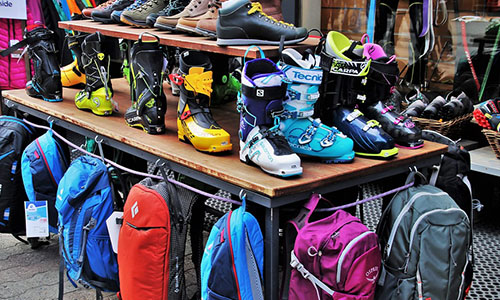 Figuring out what to wear while skiing is a process, especially if you are new to winter sports. Wearing the right clothes is important as it will help you tackle certain situations in a better way. Cold can break all your motivation to skiing, Hence, you really need to focus on what you are wearing to enjoy your skiing experience.
The first rule of ski clothing is to avoid cotton at all cost. Cotton is an absorbent fabric and it will smell like anything after getting wet from sweat, water or snow. As it will cling to your body, it will make you feel cold and wet too. Cotton can also make you feel uncomfortable, hence, only go for clothing that is made of moisture-wicking or heat-retaining fabric. The outer layer should be made of waterproof and windproof material.
Top layer
Sports bra: Go for a polyester or nylon sports bra as it will give you maximum breathability, comfort and warmth. A 'V' style or racerback bra will prevent the straps from slipping while spandex will add elasticity and make it comfortable for you.
Long tops: A base layer is an essential garment to handle winter. If you are cold, then you can double up your top or go for a thicker material top. You can wear lighter layer during spring. No matter the temperature, you should not overdress as this will cause overheating and also inhibit your movement.
Ski jacket: Ski jackets commonly come with three types of construction: insulated, soft shell and shell. The outer layer of the jacket is made of waterproofing material and can be used for blocking wind and cold. The polyester insulation or down layer keeps you warm.
Bottom layer
Underwear: The underwear should be made of quick-dry fabric to keep you dry. It should be antimicrobial-treated to prevent odour. To prevent chaffing, go for a seamless underwear or with flat seams.
Long underwear pants: An underwear pant can be in varying thickness, made of either fleece or silk. This will depend on the kind of outer pants you are wearing.
Ski pants: Your ski pants should be waterproof and windproof too. Elasticated powder cuff and gaiter will prevent snow from getting inside. Insulated pants work during spring, but during colder days, you must go with additional underwear pants.
Ski Boots or Shoes
No one wants to have cold feet during skiing. To prevent this, you must go for boots that have warm liners inside them. An adult ski boot should have four buckles, rubber toe, heel pad and a Velcro strap around the cuff. The outer should be made of waterproof material. There are different shoes for beginners, intermediate and expert skiers.
Socks: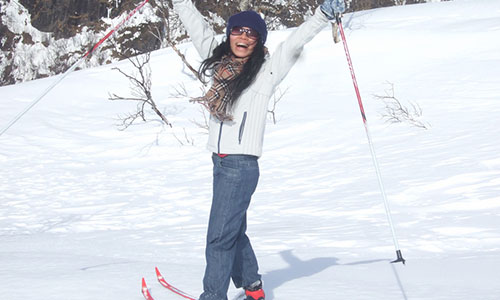 The job of the socks is to provide insulation and keep your feet warm. Socks of varying thickness will give you the much-needed warmth. Go for socks, which can adjust to your foot and have moisture-wicking and odour-repellent properties. Socks made of merino wool and synthetic material are definitely the best choice to go for.