Hiking is one of the best ways to get your dose of exercise along with some fresh air. Usually people like to go alone or in a group, but many pet owners love to take their dogs hiking too. Some might be able to relate to me when I say that this is the best way to bond with your dog.
If you are not sure about taking your dog on a hike, let me share with you some reasons that I think makes hiking with your dog a great idea.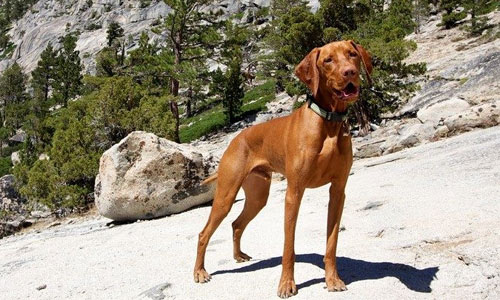 1. Break Away from the Urban Setting
Going out on a hiking trip with your dog relieves all of the stress that you accumulate in an urban setting. Being a cheap and healthy form of outdoor recreation, hiking helps you to improve your fitness and spend some quality time together.
2. Glimpse of a New World
Your dog's mind works in a completely different manner than yours. His curiosity can lead you to things that you might not have noticed before and will help you to appreciate nature and its beauty in a whole new way.
3. Sense of Security
Your dog can sense danger more quickly than you can and their intuitions are more accurate in adverse situations. This ability of your dog will help you in safely completing your hike and might also help rescue others.
4. Prevention of Health Issues
The training before the hike to keep yourself and your dog in shape along with the physical activity done during the hike is perfect to keep health problems at bay for both you and your dog. Obesity in humans and physical and behavioral disorders in dogs are often caused by a sedentary lifestyle that further leads to other major health issues like heart attacks, diabetes, etc.
5. Mental Well Being
Your dog loves nothing more than having a nice wide space to run amidst the sounds, sights and refreshing smells of nature. It might also help in reducing any signs of depression in your dog that may have gone unnoticed by you.
6. Confidence
Great outdoors and a rugged terrain is the perfect setting to build obedience and confidence in your pup and for readying him for any kind of unexpected or active situations. Hiking will also inculcate the feeling of trust towards you with your dog.
7. Affordability
Comfortable shoes, some usual gear, water and food for you and your dog is all you need to go out on a hiking trip. Get access to a good hiking area with availability of more water sources and you are all set for an expedition of a lifetime.
8. Loads of Fun
Unlike you, your dog is not just into hiking. He will walk with you for a while, then run behind a butterfly, will nudge you to play ball or just a simple game of catch. But he will certainly teach you a simple lesson that "Life is all about the journey."
So, what are you waiting for? Make a plan for you and your dog to get back in shape and trot down your favourite trail with your best bud. One single hike with your dog will change your life in unimaginable ways. Have fun!