Included in our range of Columbia products, we have a selection forty-five items, including jackets, shirts, footwear, trousers as well as hats and gloves. Included in our range of gloves, we have three different styles, with options for both men and women.
The 'Whirlibird' style is available either as a glove for men and women, or as a ladies mitten. Each of these possess nearly identical features. Using both Omni-HEAT thermal reflective material and an Omni-TECH waterproof and breathable bladder, these pairs are designed to keep your hands warm and dry – which is ideal for this time of year. The shell of the glove is made from Omni-Shield Legacy Twill 100% nylon. Additional features include a three point precurve, long gauntlet, shock cord hem adjustment and a nose wipe.
The only difference between the gloves and mittens (besides the shape of course), is the amount of insulation, with the gloves having 150g Microtemp XF II 100% polyester, with the mittens having 200g as opposed to 150g! The mittens are available in black and the gloves in black or pink.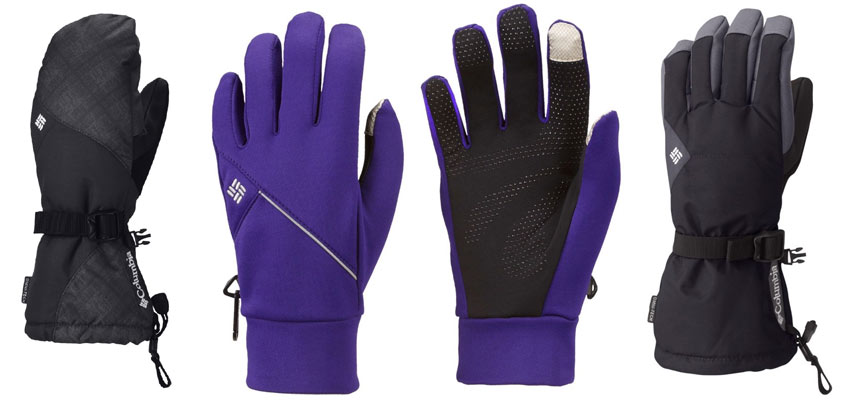 The 'Trail Summit' running glove is available for men and ladies, in a choice of either black or purple. The gloves are made from a combination of 71% polyester, 25% nylon and 4% elastane conductive fleece with the shell being made from 91% polyester and 9% elastane. This particular pair also use both Omni-WICK and Omni-HEAT technology, as well as having a silicone palm grip.
Nicely, these gloves also have a touch screen compatible fingertip – which is very handy if you like to use your phone whilst you're out and about!
Our third and final glove from Columbia is the ladies 'Thermarator' fleece glove which we have in black. This particular pair shares some very similar traits to the others, with its unique feature being its increased amount of insulation. Using Omni-HEAT reflective 280g Thermarator fleece, this particular pair go the extra mile to ensure that your hands stay warm this winter. Made from 100% polyester, with a 3 point precurve, touch screen fingertip and an elasticated wrist.
Our complete range of Columbia products, as well as all of our other brands, are available now on our website, at low prices! Orders over the cost of £50 receive free shipping. If you have any questions, please do leave a comment below or message us on Facebook or Twitter!