After a hard day of work, when I want to feel good, I close my eyes and reminisce of the joy I had whilst frolicking in the snow. The treasure of fun during the winter season is everlasting. Whenever the winter strikes, it brings with it a white blank sheet that I use to create a new story, every single time.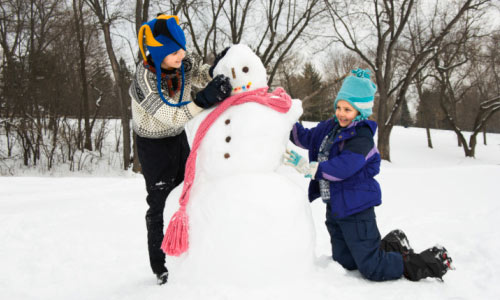 1. The perfect snowman
If you have not experienced the wonder of creating a snowman alone or with your family, you have no idea what you have missed out on. A family man myself, I have found this activity extremely soothing and rewarding. If you have a young family, snowman building is a must-do activity during the season of snow.
Start a snowman building competition amongst the members of your kin and watch how they show their creative side. In the struggle to build their snowman, you will get a glimpse of their resourcefulness as they make use of all the props they can find. It is so cute to watch my 6 year old daughter put all the pieces of a snowman together and prevent them from falling. Do I need to say more?
2. Play dodgeball with snow balls
Go outside and create an armoury of snowballs and be ready to take on the competition. Playing dodge ball with snowballs or just pelting everyone on sight is an extremely pleasurable activity. With no harm done, you can be a kid again and take on your children on an even playing field. Who does not want such a delight?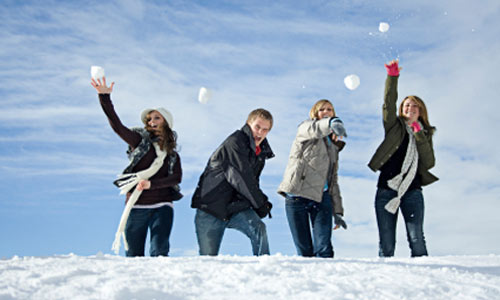 3. Challenge yourself with skiing
Every time I ski, I try to do it better than the last time. I like to explore new routes and always keep a track of my time. I am no professional, but as an amateur I try to expand my horizons. Each of my ski runs are a competition with myself. Even my son, who is just 11 years old, has started skiing and has mastered bunny slopes. If you are new into skiing, you can use the bunny slopes to learn this fascinating sport. I recommend that you get a grasp of the technicalities and then master skiing by challenging yourself. I have laid the gauntlet, are you up for the challenge?
4. Fun with man's best friend
Dogs are a man's best friend, but when it snows, a dog becomes an even better companion. The company of a dog on a snow hike or snowshoeing adventure is extremely fun. Especially when you are with your family, a dog can keep everyone busy and take care of the young ones. Your canine friend will add real value to your adventure. A dog's value cannot be disregarded; now the question is… will you be taking your four-legged pal along on your next Alpine adventure?
5. Enjoy a post adventure warm drink
After all of the frolicking is done and dusted, you will need something to warm you up. I drink white rum, my wife sips on her cognac and the kids opt for hot apple cider. But one thing that brings us all together is the all-time favourite winter drink – which we know as hot chocolate. Apart from satisfying the warm cravings of the body, a warm 'cuppa' keeps your hands oh so toasty! It is a simple yet remarkable drink, which keeps us going all day long during a snow vacation.