A change of season means you'll need to edit your camping checklist. In come the additional layers and thick socks, to ensure that you can remain warm during your time in the outdoors.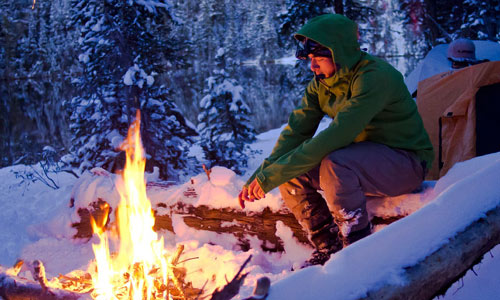 1. Make Sure You Take a Lamp
With night's drawing in quicker and lasting longer, it's important that we have suitable equipment such as a lamp or lantern to illuminate around our camps to improve safety as well as enjoyment – camping outside in the pitch black for many hours isn't ideal!
2. Get Layered Up – Take a Fleece
The first step to keeping warm is ensuring that you not only layer up, but layer up well. Starting with a merino wool baselayer is a perfect option, and should always be one of the absolute essentials in a layering system – along with a fleece midlayer and a jacket or two (down for insulation and another for protection from the weather!). Wearing thick, woollen socks as well as a beanie and a pair of gloves will also keep you insulated and prevent heat loss.
3. Make Sure You Pack a Decent Sleeping Bag
Sleeping bags and pads are key during the evenings, as the temperature drops further. As you'll likely be spending quite a few hours using them, finding ones with ideal warmth ratings for you is important – it may take some trial and error. The ideal sleeping bag and pad can differ substantially between different people, so don't base the ideal one for you from the rating of a friend's. If you camp with a partner, consider using a double sleeping bag, which will allow you to share body heat.
4. Pack a Snug Blanket
For more ways to stay warm, consider bringing a blanket which can be used in various situations – wrap it around you at night or around the campfire, or maybe as an extra layer between yourself and the ground. You should also wear your beanie, gloves and socks when you sleep! Bringing ingredients to allow you to create hot food and drink would also be beneficial, and be a real treat for yourself!
To check out our entire range of items, visit our website now where you can currently make great savings on everything. Orders over the cost of £50 receive free shipping. If you have any questions, please do leave a comment below or message us on Facebook or Twitter!