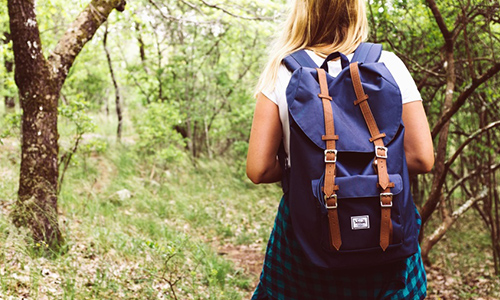 To avoid irritation, sores and muscle pain during your hiking trip, it is essential that you take all the necessary precautions beforehand. The major factor that decides the success of your adventure trip is the backpack you carry along with you.
To choose the right backpack one should keep the following factors in consideration:
Backpack Weight and Size
Choosing the right size of your backpack is crucial for your physical comfort. It is recommended to buy a backpack that has a size which is proportionate to your physique. Moreover, it should have enough space to accommodate all your belongings.
Lightweight backpacks are good for shorter trips or run-hikes. On the other hand the heavier ones are ideal for every situation and give more options in terms of shoulder straps, height adjustment, water protection and better fabric strength. For a multi-day trip a backpack of 55 Litre is the perfect purchase. For shorter trips or run-hikes you can buy a backpack of 20-30 Litres.
Accessibility and Backpack Organisation
Keeping things in order helps you enjoy your trip and bother less about your belongings. Also, in case of an emergency you can easily access the necessary gear without wasting much time. Opt for backpacks that have pockets in the right places and sizes.
Look for backpacks with top lid designs, J-shaped openings, side panel access and built-in hip belt pocket. These pockets and openings can easily accommodate necessary items like your phone, snack box, camera and other necessary on the go items.
Added Comfort and Padding
There are mainly three areas of your body that require padded support for even weight distribution to all your core muscles, giving added comfort.
The first is the hip area that requires a padded belt which helps distribute the weight evenly on the hip area without causing any discomfort from rubbing against the skin. You can loosen or tighten the belt according to your requirement.
The second is the shoulder area which is supported by padded straps. Since the weight of a hiking backpack is meant to focus on your shoulders it becomes important for you to find an appropriately padded backpack. It is better to choose a backpack with only one piece of shoulder padding as it will not thin out easily.
The third body area that requires support is the back area. Look for lumber-shaped backpacks as they support the back much better than the straight-shaped ones. The arch in these bags conforms to the shape of the back, eliminating back pain and allowing ventilation to keep you cool.
Water Resistance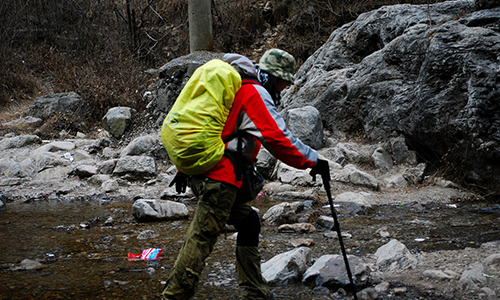 When travelling on treacherous terrains or through extreme weathers it is likely that you will be facing heavy precipitation. However, it is not necessary that you buy a completely waterproof backpack; a semi-waterproof backpack will also do the job. You can also choose to pack your kit in dry bags inside your rucksack or use an over-cover during heavy rains.
Also, you can check if your backpack contains additional features like crampon straps, ice axes, sleeping pads and other specialised compartments. Choose the right bag keeping in consideration the climatic conditions.