Jasper National Park is located in Alberta, Canada. Located in the Canadian Rockies, it is sprawled over an area of 11,000 square kilometres. Many people escape to Jasper during winters to pursue various activities and many other fun festivals. People love to visit the deep canyons of the Canadian Rockies and the Marmot Basin Ski Resort which is the highest ski resort base in Canada. The park offers extraordinary views of peaks and a hoard of fun activities to participate. Here is our list of top 4 activities that you can pursue in Jasper this year.
Skiing in Marmot Basin Ski Resort
The Marmot Basin Ski Resort offers mesmerizing views of snow and a variety of different terrains without any lift lines. The terrains have many slopes for people with different experience levels in skiing. The double black runs are for expert level skiers while the black runs are designated for the advanced level skiers. These difficult slopes are half of the total number of slopes and the remaining half is for novice or intermediate skiers. The different runs converge at the Mid-Mountain Lodge and thus, it is quite easy to meet up even if you get split during the activity. The Marmot Basin features a magic carpet, 6 lifts and 3 terrain parks offering fun for everyone. Make your reservations for activities and stay in advance to have a smooth holiday experience.
Ice Walking in the Malign Canyon
The Maligne Canyon features the most spectacular ice walk in the Canadian Rockies. You can descend to the frozen creek bed and have a dazzling experience of over 30 metres ice falls and natural ice sculptures. The park authorities recommend visiting the canyon with a guide for safety. You must carry safety gears like helmets, boots, and traction device before descending into the canyon. Many tour companies offer guided tour with safety equipment and we recommend that you book your tour with any of these companies to ensure your safety. Besides, you will get to learn many things about the flora, fauna, and terrain from the knowledgeable tour guides.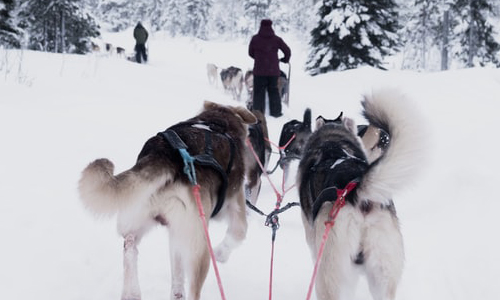 Go Snowshoeing in Jasper National Park
The Canadian Rockies in this largest National Park give opportunity of playing in snow with its two famous snowshoeing destinations. Maligne Lake is a pretty snowshoeing destination located at 3.2 km from Mary Schaffer Loop. Medicine Lake is the other destination and located at 3 km from the lakeshore trail. You can visit the online portal of Jasper Park to have more information about these snowshoeing destinations.
Experience Hiking in Jasper
There are several hiking trails in Jasper to captivate you with their scenic views. If you are short on time, then you can take a brisk walk towards Pyramid Lake Island which is just a 200 metres walk from the parking lot. You can take pictures on the bridge with Pyramid Mountain as the background. You can also hike to Lac Beauvert Loop located at Jasper Parking Lodge. Athabasca Falls, Old Fort Point Loop, and Valley of the Five Lakes are other famous hiking destinations in Jasper National Park.
We tried to list all the happening places in Jasper National Park for these activities. You can research more about the Jasper Park to find out other helpful info before your trip. The trail conditions in the park change quickly and you should wear warm layers and have all protective gears with you before venturing out. Keep all these tips in mind and you will have a safe holiday.